As I started to write this commentary, I suddenly realized that I'm about to become as long-winded and passionless as the subject matter. Sigh.
A preliminary note on the nature of memory and dreams. How interested are you when people tell you their dreams? How interesting is it for you when you're walking along the streets of a strange city and your host says, "ah, I just remembered that my family once held a picnic on this very spot, and my aunt passed out from the heat, and ...."
Before you answer those questions, let me offer some suggestions to help make your responses more thoughtful. I suggest that your interest levels will depend on (1) to what degree you share the humor and emotional style of the narrator (2) to what degree the memories are related to something in your own life, or something that interests you (3) to what degree the wit of the narrator can tell you something about the nature of the process of memory itself (4) whether the memories themselves are inherently amusing.
So, if I listen to Woody Allen tell me about his memories of being a Brooklyn Dodgers fan in his youth, I will probably be listening with rapt attention, thinking of my own childhood times with my dad, and laughing at Allen's wit. On the other hand, if it is my aunt's infinitely detailed recollections about her gall bladder surgery, or my former mother-in-law's stream of consciousness ramblings, then I probably will not be able to tell you what she just said, even immediately after she said it.
A preliminary note on the appreciation of foreign literature. How interested are you in the great works of literature from countries that are not your own, written in languages you do not speak? Again, let me offer my Cliff's Notes on the subject. Your interest level will probably depend on (1) the "translatability" of the work. Does the nature of its greatness lie in its story or in its language? A great story is a great story in any language, but if the essence of the literature is the language, you probably won't "get it" in translation. Many Russians believe that Pushkin is a greater writer than Tolstoy. Internationally, however, Tolstoy's yarns about the Napoleonic wars appeal much more universally than Pushkin's famous verse novel about courtiers. Pushkin may have the great gift of phrase, ala Shakespeare, but those of us who don't speak Russian will probably never know it. (2) the skill of the translator himself. Nabokov translated Lolita into Russian because he was afraid that somebody else would do it. Somebody else would have been obliged to a literal rendering of the novel. Nabokov felt no such limitations. He didn't translate the story literally. He made Humbert a Russian emigre, made him function with Russian psychology, and he created new puns and place names so the jokes would work in the Russian language. Lolita is the only book I can name which was translated in such a manner. But even Nabokov himself failed to bring Pushkin's Eugene Onegin into an English language version that sparkles. Despite my admiration for Nabokov, and his obvious mastery of both languages, his Onegin is still a lifeless work, and I'm still at a loss to understand Pushkin's genius.
Damn, that was a long introduction, and I'm still not near getting to the movie, but I'm now ready to talk about Proust. His "Remembrance of Things Past", a multi-volume tome essentially about memory, mainly taking place in France before WW1, although flashing to other times as well, is considered one of the great masterpieces. I can't get into it. I don't find Proust witty or incisive. I'm not interested in the characters and times he describes, or the conversations that took place then, and I don't speak French, thus obviating my ability to be dazzled by his literary stylings. And he doesn't really tell stories with a conventional structure. I've read two of the books in English translations, seen movies adapted from his work, and I guess I'll never "get it". It's like listening to my aunt's surgery stories. For me, the only thing I like about it is the demonstration of the nature of memory itself.
And that's also the only thing I could get out of this movie. The old novelist (1871-1922) is on his deathbed, the film is his recollections. There is no real structure to it beyond the nature of memory. A sound reminds him of something, the furniture in his room is reassembled, and he is transported back to an incident in his earlier life.
He recalls his childhood, his lovers, and the death of the old world after WW1. That topic was all the rage among European aristocrats for about 20 years. "Oh, the kings and emperors are all disappearing, and the common people are taking over everything, and all the old codes of honor and civilization are gone. Our world is dead. Oh, woe!" Basically the same salon palaver that people exchanged after the death of feudalism, the end of slavery, and the break-up of the Beatles. The glory and elegance of their time was faded, and they spent several decades whining about it, and even keeping around token royal families to remind them of their once-glorious empires. Some Europeans still regard that era as some hot shit.
Barbara Tuchman won a Pulitzer Prize for her description of this era in "The Guns of August" (paperback info from Amazon), and I won't attempt to match her accuracy or her eloquence. Here is how she put it: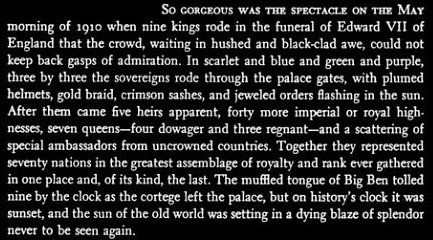 That old, lost world was Proust's obsession. The structure of the movie, such as it is, follows the structure of the final volume of Proust's multi-volume masterpiece, Remembrance of Things Past. At least I think that work is a masterpiece. Experts say so. Since I never had to read the book for a class or anything, and it's unlikely I ever will, I'll have to accept that on faith. It will stay outside my experience unless they bring back Classics Comics. Come to think of it, a pop-up version of Remembrance of Things Past would be good, and what a great gift for the pre-schooler who has everything!
Although I'm not sure exactly what would pop up.
I don't think you simply "read" this book, like you would nestle into your armchair with a Tom Clancy novel. Instead, you "study" it, like Finnegans Wake, with a yellow highlighter, plenty of pencils, and legal pads at your beck and call, or at least your beck. Whatever a beck is. There's another thing wrong with the modern world - too many ignoramuses like me who don't know a beck from a behest.