If you are reading my reviews, you are probably interested in the general topic of movies, and in the more specific area of film nudity.

Those of us with these common interests have often moaned, "why can't a movie with plenty of nudity and/or sex also be a watchable movie?"

Doesn't happen very often, does it? There's your "Basic Instinct", and then ......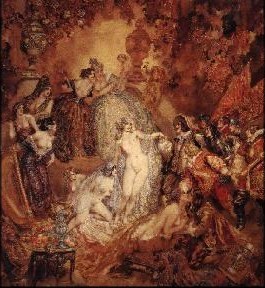 Then there's the Aussie flick, "Sirens".

It would be an interesting flick without the nudity. Sam Neill, as a hedonistic life-embracing painter goes head-to-head with Hugh Grant, as a self-absorbed and condescending young pastor out to change the painter's mind about an exhibition. Beautiful photography of a semi-tropical area of the antipodes, lots of local color, and generally interesting and wry filmmaking.

The story is based on the life of a real painter, Norman Lindsay, and the film was photographed on the actual Lindsay estate. The link in the previous sentence is an excellent web site about Lindsay's work and the place where he lived. The painting to the left is Lindsay's "The End of War", a 1924 watercolor. The film tries to maintain the vivid look and feel of Lindsay's own paintings, but the incidents in the movie are completely fictitious.

I love the local newspapers that they keep showing, which only feature stories about people dying from attacks by sharks, spiders, and snakes. Apparently, no Australians ever died of natural causes in those days. The whole newspaper gag is just a throwaway. You barely notice it when you're watching, but it's a good example of the humor and attention to detail.