---
Tuna's notes
---
Melissa (1995), AKA Secret Sins, sat unfinished for years, and was then cobbled from the existing footage into something which would allow the producers to recoup some of their investment.
The film is chiefly known for topless exposure from Nicole Eggert in the lead. Soem people that she has two topless scenes dancing in a strip club, but that one of them is a body double. It makes no sense to me that she would show her boobies in one scene in a strip club and not in another nearly identical scene. Here is the sequence of events in the scene that supposedly uses a double. She dances for the first time on stage. Cut to the club owner and a woman never seen before or since commenting that she is good. Cut back to her dancing, still fully dressed in a light green lacy dress. Cut to unknown stripper number one showing her boobs in a blue satin dress. Cut to Nicole telling her best friend in the dressing room how much she made.
Here is a comparison of Nicole (before the cut) and the supposed double (after the cut). Nicole is the one in the blue-green lace dress; the other woman is in the blue satin dress.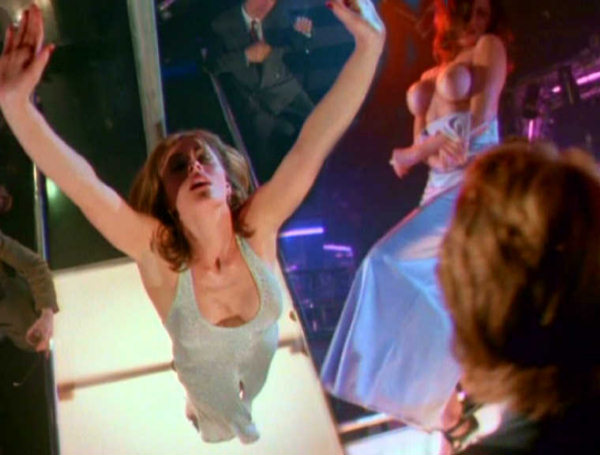 It obviously was not intended to be a double. The other woman has different hair, a different face, very different boobs, a different dress, and was dancing in a completely different part of the stage. The principle of Occam's Razor leads to a more logical explanation: it's simply a different character. Remember that the film was assembled years after it was lensed and there was no more footage available to the editor, so he had no way to explain that Nicole had left the stage and had been replaced by another dancer. The different dress color accomplished that sufficiently for the audience. There's really to reason to believe that the scene was ever intended to be Nicole's character in the first place.
Now, on to the plot. The opening sequence cuts between a strip club and Nicole in a prison hospital cell, recovering from slitting her wrists. We soon learn that an unidentified man was found shot in her apartment, and she was found in a nearby cafe still possessing the murder weapon and with her wrists cut. Her public defender reports that she is uncooperative, but he tells the court- appointed shrink that she is worth saving. We then learn her story in a series of flashbacks as she slowly opens up to the shrink.
The brief story of her life is trite tripe - the aspiring dancer who comes to New York and ends up a stripper, and then makes bad relationship decisions. What makes this one slightly different, and probably would have saved it had they been able to finish filming, was that they kept the identity of the stiff in doubt until the end.
In other words, this is not a whodunit from the audience point of view, but a who-got-done.
Scoopy thoroughly trashed it, and I can certainly see his points. It was not finished. In fact, they may have changed the plot line to match the footage they already had. There were flow problems due to missing establishing shots and inserts. They had to use every frame of existing footage even to get to the reduced running time of 81 minutes. And they had to tell the end of the story with word slides.
It is not entirely without plusses, however. Nicole Eggert gave a strong performance, and nobody was especially bad in the film. Breast exposure from someone famous is always good news for us. The lighting in the strip club was excellent in that it didn't take away from the nudity but still gave the proper mood.