This film was reviewed by the San Francisco Chronicle on November 12, 2004 because it was playing at two theaters in the Bay Area.
Anything seem weird about that?
Look at the film's date! Lensed in 1998, shown at one film festival in 1999, Junked made its grand theatrical appearance five or six years after it was filmed.
The Chronicle was not entirely enthusiastic, by the way.
"Junked is a vile film about vile people, with vile acting, vile writing, vile direction and a score by Kurt Weill. OK, leave off that last part. It's a low-budget 77 minutes made up mostly of scenes showing criminal low-lives cursing at each other, as caught by a wildly shaking camera. It's almost unwatchable. "
I don't quite agree with that review. I have a real problem with the word "almost." To illustrate my point, I offer exhibit A, an actual frame captured from the film and shown below without any modification: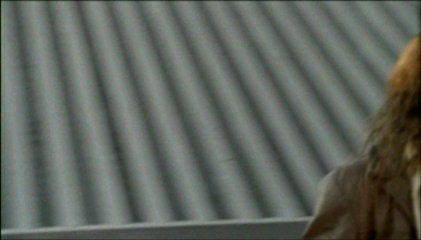 Genius!
The plot revolves around a street hustler who tries to go straight to save himself and his kid sister from a life of drugs, prostitution and degradation. This crime drama was allegedly "inspired by actual events." There's no indication what those events might have been, but surely one of them was the big bang, which gave birth to the physical universe, and without which this fine film might never have been made.
Much of the film takes place in a derelict warehouse, specifically in a room with shattered windows, graffiti-painted walls, and an old mattress in the center. It's basically a play with one set and four characters who hang out and debate about what they should do. Their concept of debate is that any argument is won by the person who speaks the loudest. A lot like "Crossfire." They spend so much time waiting for things to happen that Godot would get bored. In fact, I think Godot showed up and decided to seek some livelier action.
Bad movie. The Chronicle had it right. It could not be much worse. Bad sound editing. Overacting. Weak direction. Weak script.
Bad DVD as well. Barely above VHS quality, if at all. No features, not anamorphically enhanced, and ridiculously overpriced at $26.99.
The only possible reasons to watch this film are the following:
1) Thomas Jane and Jordan Ladd have become fairly big stars since this was lensed, and you may be curious about their pre-fame efforts. The writer/director of this film originally wrote it as a play in which Jane played the lead role, a street hustler named Switch. When the play was converted to a screenplay, Jane continued to play the role he had originated on stage. Switch is a bi-sexual ... a switch-hitter, get it? Interestingly, Jane broke through as another switch hitter, playing Mickey Mantle in 61*.

2) Jordan shows her bum for a few frames, walks around in her underwear, and provides a few very impressive downblouse looks at her cleavage.