Joyeuses Pâques is an old-fashioned sex comedy in the Western European style, which means naughtier than a Doris Day and Rock Hudson film, but with a similar tone. If you watch it with the "mute" button on, you might easily mistake it for an Italian movie from the late 60s, although it is actually a French movie from fifteen years later.
Belmondo plays a playboy industrialist with an eye for fast cars, fast boats and fast women. He is also married, but he always manages to get home in time to keep his wife from getting suspicious about his activities. One day he sends his wife off for a long trip, thus anticipating a relaxing non-stop orgy of beautiful babes to share his bed, starting with the gorgeous young one (Sophie Marceau) he picks up at the airport.
Well, things go wrong. Isn't that the whole point of these films?
Mrs Belmondo's trip is cancelled. She pulls up into their driveway that same night, just as young Sophie is about to remove her blouse. Belmondo panics, struggles for a credible explanation for Sophie's presence, and finally has to admit to his wife that he is caught, and that he must confess a secret he's been keeping for a long time - Sophie is his daughter!
His bullshit story actually works out very well for a while. Mrs Belmondo even invites her newly discovered stepdaughter to stay with them, and Belmondo is purring like a cat in a henhouse until Sophie's mom shows up at a dinner party. Belmondo manages to weasel around the fact that he doesn't seem to know the woman, nor she him, despite the fact that they were supposed to have a daughter together. Our hero really gets his comeuppance, however, when the old sot starts to tell the dinner guests about the monstrous creature that is Sophie's father, whom they all believe to be Belmondo.
And so forth. You get the idea ...
It's your basic Marcello Mastroianni movie, except with Belmondo instead of Mastroianni.
Belmondo is one of the greatest stars in the history of film, with a list of credits as long as your arm. In the early 60s he may have been the biggest star in Europe. He was also one of the coolest.
As you can see from the highlighted cell on the list above, this is one of the least respected films in Belmondo's career. I suppose that is true for a variety of reasons, not the least of which is that it's a goofy lightweight comedy in which Belmondo plays pretty much of a feckless douchebag, far removed from the cool guys he once played for Godard and Truffaut. You might compare this phase of his career to the phase Robert DeNiro is going through now. Belmondo was 50 then, and was trying to find the right niche for his middle-aged self.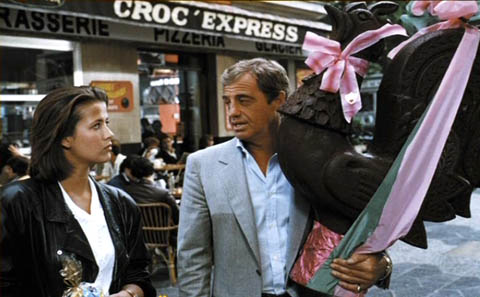 As the picture illustrates, while a young Belmondo would have gotten the girl, at this age he was pretty much left holding his cock.
Having said that this is not a film of substance, I should hasten to add that I found it pretty damned charming. Hell, even grade-B Belmondo is pretty good stuff. The photography and stunts are excellent, reminiscent of a James Bond film. Sophie Marceau was a cute little tootsie then; Belmondo was fine as the fox who is less foxy than he imagines; Marie Laforet was amusing as the wife who obviously knows a lot more than she lets on; and the ending is completely appropriate and clever. It's forgettable fluff, but I found it a pleasant time-killer.