The film opens with a woman performing a sexually-oriented stage act. The highlight of this act involves spirited sexual congress with a large stuffed panda which will, at the very least, need to be cleaned and disinfected thoroughly before it can be returned to its owner. I can't claim to have seen every film with stuffed-panda fuckin', but I'm going to go out on a limb here and say that this is probably THE scene to watch if you are into this particular sexual practice. In fact, I'll go the extra mile and say that I have never seen a better scene with a woman having sex with any kind of stuffed bear, and that includes teddy bears, although to tell the truth I haven't seen many Australian porn films, so I may be missing out on some excellent stuffed koala scenes. I have disqualified those in advance because koalas are not really bears, nor even closely related to bears.

(A very tame capture is pictured to the right. Note: this film is actually in color, but the director apparently felt that audiences could not handle panda-fuckin' in color. Who could blame him? That would be considered hard-core in many countries.)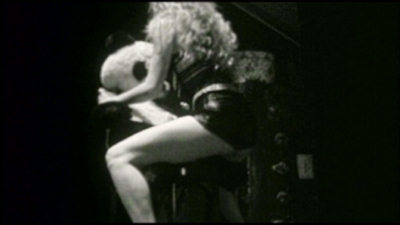 The film is not called The Panda Fucker, however, but The Man Eater. You can therefore assume that it eventually gets to the point, or at least closer to a point of some kind, and starts to focus on various non-panda activities. A literal translation of the title would actually be closer to "the she-wolf," but the film is marketed to English-speaking channels as The Man Eater because that title has a double meaning in the context of one the star's favorite sexual practices. The star, Loredana Cannata, sets aside her panda long enough to perform a highly beloved form of man-eating on camera in the course of this film, thus earning La Donna Lupo a spot on Wikipedia's list of mainstream movies with unsimulated sex. In addition to this particular activity, Ms. Cannata also pleasures herself on camera by demonstrating her command of Houdini's famous "disappearing finger act," the secret to which I am not allowed to reveal as part of my long-standing agreement to abide by the magician's code, in return for which the magicians agree not to turn me into a newt or make my web site disappear. A small price to pay, if you ask me. Suffice it to say that Ms. Cannata spends the entire film engaging in various activities that are normally performed in public only when there are parties at Charlie Sheen's house. Astoundingly, at least by the more puritanical standards of America, the infinitely open-minded Italian public has subsequently accepted the same Ms. Cannata as a mainstream TV star in her native land.
In between the sex scenes, this is a mainstream and somewhat arty erotic thriller about a mysterious woman with an unquenchable appetite for anonymous sex. A young man picks up a beautiful woman for a one-night stand. He falls for her after a wild night of skinny dipping and hanky-panky, but she is gone in the morning, and the name and phone number she gave him turn out to be false. The young man is so smitten with his dream girl that he tracks her down, only to find out that her entire life consists of nights just like the one she spent with him - except with other men, using other false identities. In general, it is a slow and arty film with no apparent point and a "wha ...?" ending, and is only of interest to those who would like to see Cannata fellate a young man or insert a finger into herself.
Not that there's anything wrong with that.