A lowbrow gross-out comedy is one of the most difficult movies to assess correctly by reading the critics. It's a challenge comparable to determining from critical reactions whether one might like a splatter film or a liberal-leaning political film. I haven't made a case study on splatter films, but I can give you some clues about political films and gross-out comedies.
Political movies work on the rule of 20. Any film that offers the standard liberal sermons will get at least 20% good reviews, no matter how bad it is. Any film that ridicules standard liberalism will get at least 20% bad reviews, no matter how good it is. Movie reviewers reflect the general attitudes of people in the arts and people who write about the arts, and that has a measurable impact on the results. The "left effect" is not large enough to affect very good or very bad movies. A very good liberal sermon movie, like Crash, or Good Night and Good Luck, with 95% positive reviews, is only affected by a point or two. Discarding the 20% which consists of meaningless clutter still leaves 75 out of 80 positive reviews from the original 95 out of 100, and that's still 94% positive reviews. At the opposite extreme, a very bad movie is affected by nearly 20 percentage points, but it simply doesn't matter at that level. If you see a film with 80% negative reviews, it doesn't matter that it actually deserves all negatives, because you're not going to run out enthusiastically to see a film with 80% negative reviews. The place where you must be careful is within the middle range. A film like The Interpreter, for example, gets a positive review from about half of the critics, and you may think, "Well, I love international thrillers, so 50% may be enough for me, given my favorable predisposition toward this genre." You have to remember the discount. The score is not 50/100, but 30/80, which is really not that good. In order for you to like it, you have to like both political thrillers AND liberal sermons. Conversely, a film which mocks liberals and gets 60% positive reviews is probably one hell of a good movie, because it is actually 60/80, not 60/100. To exaggerate the point for impact, I'll make a ridiculous hypothetical example. Suppose a movie came out which was strongly pro-Bush and received 80% positive reviews. You could bet your bottom dollar that would be one of the greatest movies ever made. Imagine another movie strongly critical of Bush with the same 80% positive reviews. You can assume it is just another workmanlike effort which will soon be forgotten.
The lowbrow comedy impact is much stronger than 20 points. It is closer to 40. Lowbrow comedies are almost always scorned by the critics in their own times. I guess these are not the kind of entertainments that are extolled as worthy endeavors in the literature and drama classes at Swarthmore and Bryn Mawr and whatever other bed-and-breakfast colleges are attended by budding critics. Duck Soup received no awards at all, and was considered such a disaster that it caused the Marxes to be dropped by their studio. Blazing Saddles was excoriated for its tastelessness, political incorrectness, and sophomoric gags. Dumb and Dumber only got about 56% positive reviews. Each of those movies is now considered a very strong candidate when people debate the funniest movie ever made, each deriving its support from different generations. My son and his friends almost universally vote for Dumb and Dumber as the funniest movie of their lifetimes. Not one of the funniest, but THE funniest. It will one day be remembered as a comedy classic, just as Blazing Saddles is today. Yet it was panned by half the critics! It is virtually impossible for a lowbrow comedy to score high with the critics or to win any major awards, no matter how astute, no matter how brilliant, no matter how funny it may be. When I'm perusing the reviews, I assume that a cynical film like Wedding Crashers must pretty damned good to earn 70% positive reviews, because that level is Valhalla for a raunchy, lowbrow comedy. On the other hand, when I see 70% positive reviews for a serious film with a high-minded liberal message like North Country, I wonder what the hell is wrong with it.
After that lengthy digression, I may actually getting around to mentioning this gross-out comedy, Dirty Love, which was written by and stars a former nude model, Jenny McCarthy, who now makes her living as a comedienne. This film was totally eviscerated by the critics. 96% of its reviews were negative, and Metacritic estimates that the average review is about a 9 on a 100-point scale. That rounds off to no stars out of four, and that is precisely what Roger Ebert gave it - NO stars. Yes, Dirty Love is at such a low level of sophistication that it makes Sandler seem like Aristophanes, but those scores are so bad that Dirty Love must go beyond the normal critical disdain for lowbrow entertainment. It did not receive 96% bad reviews merely because it is tasteless and degrading and sophomoric. Lots of films are tasteless and sophomoric, and they can still get 60-70% positive reviews if they are good, sometimes even in the eighties if they are brilliant.

Perhaps you are thinking, "In order to achieve the Dirty Love level of rejection it would have to have all of those critically-reviled qualities, and also be totally unoriginal and completely unfunny."
Ding! Ding!
We have a winner.
Not only does the script fail, but the photography is so ugly as to be distracting. Every scene is shot in an unflattering harsh direct light, as if lit by the bar of lights people used to use to make home movies in the 8mm days. There's a lot of grain, and even some poor focus. Even the pretty Ms. McCarthy comes off as quite unattractive - even when she is not making silly faces, although that happens rarely. That picture to the right doesn't look too bad at that size, but it has been reduced significantly. If you click on it, you'll see what the raw DVD image looks like. Every other scene is lit about the same.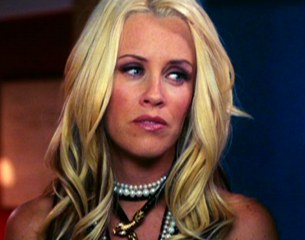 As I write this, the film is rated 3.0 at IMDb. That's bad enough to make the all-time bottom 100, assuming that the rating holds up.

Dirty Love is not, however, totally without comic ideas. It has about ten gags that would make pretty funny throwaways, worthy of about 5 seconds each in a funny lowbrow movie like Police Squad or Happy Gilmore. Unfortunately, those five-second gags last about 10 minutes each, and are not throwaways, but carry the entire comedic weight of the film.
Jenny plays an aspiring photographer who comes home one day to find her supermodel boyfriend making nice-nice with another woman. (Which goes on far too long so that Jenny can mug.) Then she throws herself despairingly around the streets, shouting "Oh my God" and making more faces. (This goes on so long I grabbed a snack from the kitchen and it still hadn't ended when I returned - and she was still doing the exact same things!) Then she goes to see a psychic who tells her that things will get worse before they get better. (This goes on longer than the Peloponnesian War, with the psychic giving more and more unfunny examples of things that might go wrong, and Jenny making sillier and sillier faces.)
Then Jenny goes through various degrading experiences and makes more faces. She gets dumped on by more guys. Her ex-boyfriend destroys all of her cameras so she can't earn a living. While she is trying to scrape together enough money for ultra-heavy-flow maxi pads, she gets her period in the supermarket, and leaves behind more flooding than Hurricane Katrina (right). After seeing the world and being beaten down by it, she comes home covered with food and puke, and finds out that her true love was beside her all along. The couple she had witnessed in flagrante was actually her best friend and her next door neighbor.
(Cue up "They were you.")
In other words, Dirty Love is essentially The Fantasticks with vomit.