Coming Home is a multi-part British TV miniseries (about three and a half hours of running time) based on a book by the queen of British romance novels, Rosamunde Pilcher. She's a little old octogenarian from Cornwall who has written approximately a gazillion of these stories under her real name as well as under the pseudonym of Jane Fraser. She started churning them out in 1949. More than fifty years later, she was still on top of the game, receiving acclaim for having written the "romance novel of the year" as recently as 2002.
Coming Home portrays several generations of an extended family during the periods immediately before, during, and immediately after WW2. Handsome men go off to war, where they promptly lose vital bodily functions, or turn up missing in action, or die. Beautiful women stay behind, tend to the home front, and mourn the loss of their men. Some of the love stories lead to tragedy, others overcome hardships and misunderstandings on the way to happiness, others lead to bittersweet conclusions. (Usual stuff. Guy is missing in action, but does finally make it home. Good news? Not entirely, because his girl thought he was dead and married another man. That sort of thing. ) I don't know much about Ms. Pilcher's life, but I reckon that this particular story has some very close parallels to her own experiences. The lead character spends the later war years serving with the Women's Royal Naval Service, as Ms Pilcher did herself.
I popped this in the DVD player assuming it would feature typically melodramatic romances in the stuffy framework of an Aunt Biddy drama. (The Royal and Ancient Broadcast Code requires all multi-generational family sagas to include a dotty Aunt Biddy.) My expectations were not entirely unfounded, but I have to say that the British certainly know how to mount a TV show. The story features Peter O'Toole as the paterfamilias, some fine young actors in support, some handsome production values, and some interesting period detail. A passing point of interest is that the main character was played by both Emily Mortimer (as a young adult) and future superstar Keira Knightley (as a teenager - pictured.)

The presentation also includes some revealing and frequent nudity from Emily Mortimer and Katie Ryder Richardson, most of it filmed in excellent light with skilled professionals behind the camera. Sweet! I would not suggest that you guys run out and rent this, but if you somehow get stuck watching it, it won't be so bad at all. I intended to fast forward to the nudity, but I actually watched the entire program, which is on two disks.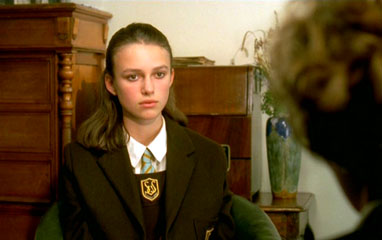 I know what you're thinking.
It's all right. I had some testosterone shots after watching this show, and then I watched some old tapes of the Ditka-era Bears.
I'm almost back to normal now, although I still can't stop saying the word "frappé," which is amazing because I have no idea what it is, or even how to pronounce it. Is it a "frap"? Is it a "frape"? Is it a "fra-PAY"?