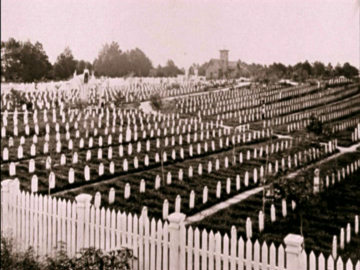 "Between 1861 and 1865, Americans made war on each other and killed each other in order to become the kind of country that could no longer conceive how that was possible."

---- The Civil War ----

"Before the war, in speaking about our country, we said, 'The United States are' — plural. We saw ourselves as a stitched-together collection of states, a 'many' thing. After the war we then began to talk about America as a 'one' thing, as a nation. And we began to say, 'The United States is.'"
There are exactly 13 projects at IMDb rated above 9.0 with 1000 or more votes.
Ken Burns's documentary about the the American Civil War is tied for the honor of being deemed the very best thing ever committed to film since moving images first flickered on Muybridge's wall, which happened well more than a century ago. Is there much more to say?
This project all but strips away a critic's tools, since it is difficult to do much more than stand back in awe at the effort and skill that went into the creation of this project. In order to tell the story, Burns worked for five years, longer than the Civil War actually lasted, assembling photographs that had never been published, listening to recordings at the Library of Congress, interviewing historians, seeking first-person accounts of the events.
Burns managed to unearth some incredible photographs which had probably never been seen before except by historians, like this one of a towering Lincoln reviewing the troops: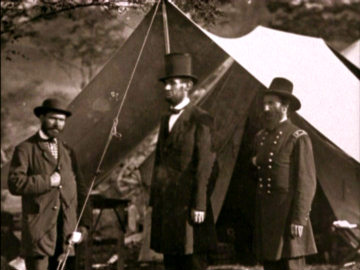 Or this one, which proves Ulysses S Grant was really Robin Williams:
Or these rare items showing the three Booth brothers working together in Julius Caesar, in which the brother named Brutus did not play Brutus, but Cassius. Although Edwin Booth would become arguably the greatest stage actor of his time, it was his notorious brother John Wilkes who got the plum role of Marc Anthony in this performance.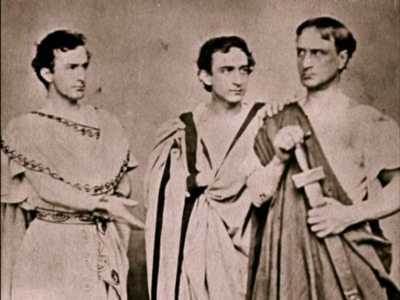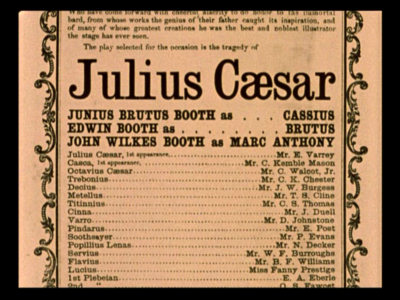 Burns also managed to unearth some rare treasures, like this letter
July 14, 1861
Camp Clark, Washington

My very dear Sarah:
The indications are very strong that we shall move in a few days-perhaps tomorrow. Lest I should not be able to write again, I feel impelled to write a few lines that may fall under your eye when I shall be no more . . .

I have no misgivings about, or lack of confidence in the cause in which I am engaged, and my courage does not halt or falter. I know how strongly American Civilization now leans on the triumph of the Government and how great a debt we owe to those who went before us through the blood and sufferings of the Revolution. And I am willing-perfectly willing-to lay down all my joys in this life, to help maintain this Government, and to pay that debt . . .

Sarah my love for you is deathless, it seems to bind me with mighty cables that nothing but Omnipotence could break; and yet my love of Country comes over me like a strong wind and bears me unresistibly on with all these chains to the battle field.

The memories of the blissful moments I have spent with you come creeping over me, and I feel most gratified to God and to you that I have enjoyed them for so long. And hard it is for me to give them up and burn to ashes the hopes of future years, when, God willing, we might still have lived and loved together, and seen our sons grown up to honorable manhood, around us. I have, I know, but few and small claims upon Divine Providence, but something whispers to me-perhaps it is the wafted prayer of my little Edgar, that I shall return to my loved ones unharmed. If I do not my dear Sarah, never forget how much I love you, and when my last breath escapes me on the battle field, it will whisper your name. Forgive my many faults and the many pains I have caused you. How thoughtless and foolish I have often times been! How gladly would I wash out with my tears every little spot upon your happiness . . .

But, O Sarah! If the dead can come back to this earth and flit unseen around those they loved, I shall always be near you; in the gladdest days and in the darkest nights . . . always, always, and if there be a soft breeze upon your cheek, it shall be my breath, as the cool air fans your throbbing temple, it shall be my spirit passing by. Sarah do not mourn me dead; think I am gone and wait for thee, for we shall meet again . . .
The author of that letter died mere days after having written it.
The result of the Burns research is a work that stands up reasonably well as a work of scholarship, although historians may argue that it is sometimes focused on the wrong elements, and may not agree with all of its suppositions and conclusions. The "truth" of history is not always seen as clearly as individual historians like to pretend. Think of events that happened ten years ago, and how they are often misinterpreted after even a short time. Then imagine the gulf in time to be 130 years rather than 10. The point here is, however, that this film is worthy scholarship if not the only possible scholarship, and it is all incorporated into a work of art. The combination of rare photos with the evocative music, driven by the first-person contemporary quotations delivered by first-rate actors like Jason Robards and Morgan Freeman, gives it a powerful emotional resonance. That resonance is magnified by the scripted narrative, which weaves together the stories of both great people and simple, and mixes fascinating trivia with the macrocosmic view. Burns not only describes events and the crowds that gathered for them, but wonders who was in the crowd that day. John Wilkes Booth? Teddy Roosevelt? Burns has an eye and ear for establishing the context of the times, as well as for making the story human and interesting. He was able to track down the journals of a Confederate soldier and a comparable Union man who managed to survive battle after battle, and he weaves their comments seamlessly with the words of the powerful. Burns chose two soldiers who could express themselves articulately, but he also used the simple words of other fighting men, and their phrases stand up favorably next to the words of the more educated because their candor provides a direct eloquence which neither polished rhetorical flourishes nor painstakingly "spun" memoirs can equal. Sincerity almost always trumps craftsmanship.
Besides being both scholarship and art, The Civil War is just plain fascinating as a story and as entertainment. Movies try to show us what people were like in an era, but this project shows us exactly what they were like. What they looked like; dressed like; talked like. What they knew; what they ate; what they talked about when they weren't fighting. It reveals their eccentricities and what they thought of one another. The film digs into areas rarely discussed: the workings of the Confederate government, the peculiarities of the leaders, the feelings of the enlisted men toward their generals, the ambivalent attitude of the Southern free press toward the war, the motivation of the Union's enlisted men. (Stop and think about it. The kids from the South were fighting off invaders on their land. What were the kids from the North fighting for?)
I think I learned more from this film about the Civil War and its era than in all my years in school, both because it is comprehensive and because I was actually interested. I was also in tears through a lot of it - not just with an eye watering a bit, but with tears streaming down my cheeks from the enormity of the cosmic and personal tragedies and the accompanying sadness of the music.