Scoop's comments in white:

By the time Roger Corman got to his fifth and final "Nurse" movie, he had made a major advancement in the genre. The DVD box summarizes:
"Along the way, I decided that focusing on three girls, instead of the earlier films' four, made for a better story."
EUREKA!
When future film historians point to the key advances in cinema, they will have to cite the following as the Big Seven:
Muybridge demonstrates the first projected motion picture
Edison debuts his Vitascope
Sound added
Color added
Widescreen techniques perfected
Deep focus perfected
Corman perfects the nurse formula
Like just about every Roger Corman movie, or so it seems, Candy Stripe Nurses features the immortal Dick Miller (right) in a small speaking role. Usually a sleazebag salesman, a lazy cop, or some other obnoxious guy, Miller had about four lines in this film, in the much sought-after role of "spectator" at a basketball game. He delivered highly nuanced lines like "you suck, Gallagher" with great relish, at least until Gallagher's girlfriend dumped popcorn on Miller's head.

I know you never heard of Dick Miller, but you can't tell me you don't know his face. He has 130 acting credits at IMDb. That compares to 142 for Gerard Depardieu, 157 for Marcello Mastroianni, and 135 for Michael Caine, just to show you which league Miller plays in.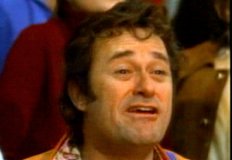 Tuna's comments in yellow:
Candy Stripe Nurses is the 5th and last in the Roger Corman "nurses" series, in which he switched the formula from four girls to three, and took much of the action outside the hospital.
The best way to explain the plot is probably to talk about the three women.
Candice Rialson is rather lose and free. At the start of the film, we see her in a linen closet with a doctor. Later, she is in a bath scene at home, obviously her mother's pride and joy. She also has sex with a patient, and nearly acts as sex surrogate to a rock star she had a crush on.
NUDITY REPORT
Robin Mattson shows breasts and buns in several extended scenes, with one nearly gynecological shot from the rear.
Candice Rialson shows breasts in good light in three different scenes.
Maria Rojo shows breasts in two scenes, first, in a fantasy lovemaking session, and then during a rape attempt while she is trying to hunt down the witness.
Kimberly Hyde and Elana Casey show breast and buns in minor roles.