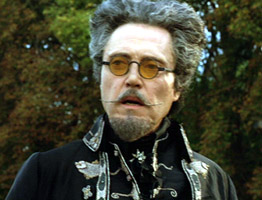 This interpretation was not Hilary's decision. The screenwriter saddled Swank with significant fictional changes from a much more interesting truth. The screen Jeanne was sanitized and romanticized. The real Jeanne was not a wronged aristocrat whose brave example helped provide a rallying point to lead the country toward a more glorious tomorrow. She was a poor woman from Champagne who may have fabricated her Valois lineage as part of her grand scheme to make out in society. She was a she-wolf trying to claw her way into the pack, willing to do whatever was necessary to get ahead, having nothing to lose.
A detailed account of the story
Perhaps the strangest decision made by the filmmakers was to play most of the story with straight-faced sincerity, as soapy drama. There were many components to create a great farce. Some farcical moments played out perfectly.
• Commentary by Charles Shyer
• Theatrical trailer(s)
• 2 Documentaries: The Affair of the Necklace: The Making of a Scandal and Designing Affair
• Additional Scenes
• Gag Reel
• Cast/ Crew Highlights
• Widescreen anamorphic format, 2.35
The duped Cardinal's ego was so great that even though he knew he was being duped, he assumed the lie must have been something completely different - surely they were hiding the fact that the Queen is in love with him!
And the always-entertaining Christopher Walken is hilarious as Cagliostro, the ultimate scam artist. When Cagliostro was acquitted because of insufficient evidence - although, as we saw with our own eyes, he was guilty as sin - he solemnly thanked the parliament for a just and wise decision.
The script shone in those comical moments - how many somber historical dramas include a gag reel on the DVD? - but the humor inevitably gave way to some sentimentalized narration and further romantic embellishments, stirring speeches, and swelling music.
The film also burdened the American actors with that most tiresome of screen conventions which says that in order to play an 18th century French person, one must do so with a standard RSC 20th century English accent. We must believe that 20th century British speech is much more representative of 18th century French speech than Swank's natural accent would have been. Unfortunately, other people's belief in that dubious logic gave her one more unnecessary challenge, and her success was - well, sporadic.
The Critics Vote

General UK consensus: one star. Daily Mail 0/10, Daily Telegraph 4/10, The Guardian 2/10, The Times 3/10, Evening Standard 1/10, The Express 4/10, BBC 2/5

The People Vote ...

IMDB summary. IMDb voters score it 5.7/10. Guardian voters 4.1/10

with their dollars: a massive failure. Budget unknown, but must have been substantial. It never reached more than 40 screens, and grossed less than a half million dollars in the USA

IMDb guideline: 7.5 usually indicates a level of excellence, about like three and a half stars from the critics. 6.0 usually indicates lukewarm watchability, about like two and a half stars from the critics. The fives are generally not worthwhile unless they are really your kind of material, about like two stars from the critics. Films under five are generally awful even if you like that kind of film, equivalent to about one and a half stars from the critics or less, depending on just how far below five the rating is.

My own guideline: A means the movie is so good it will appeal to you even if you hate the genre. B means the movie is not good enough to win you over if you hate the genre, but is good enough to do so if you have an open mind about this type of film. C means it will only appeal to genre addicts, and has no crossover appeal. D means you'll hate it even if you like the genre. E means that you'll hate it even if you love the genre. F means that the film is not only unappealing across-the-board, but technically inept as well.

Based on this description, this film is a C-. Good production values. Sincere effort, but tedious and shallow.