Abominable is a cross between a giant creature film and Rear Window.
Say What?
Yup, no kidding, that's exactly what it is. Imagine that in Rear Window Jimmy Stewart had seen crimes committed by a giant creature instead of by normal humans, and you have the general idea. Update the story to 2006, so that the crimes are reported over the internet, and you have the exact movie.
A wheelchair-bound man is trapped in the top of his mountainside A-frame. His vertiginous vantage offers him a good look at the neighboring forest and his nearest neighbor. The neighbor's house has been occupied by five college girls, and the forest has been occupied by Bigfoot. Peering through his binoculars, the man can see what is happening and what is going to happen, but he can't seem to communicate it to anyone. His phone line is out, and he's the only guy in the world without a cell phone. He tries simple shouting, but the girls think he's a pervert. He tries sending e-mail to the sheriff, but the police think he's nuts. And so it goes until only one girl is left and she, together with the crippled man, must somehow make it to a car while the beast lurks nearby.
The film is assembled quite well. The direction manages to convey the star's increasing panic, and the flight to the car is extremely suspenseful. Give the director a lot of credit for understanding how to create and maintain dramatic tension, and Matt McCoy a lot of credit for his understated portrayal of the troubled, panicky man.
There are a few problems as well:
1) The actual creature is ridiculous. It's one of those "guy in a suit" monsters like the ones from every Roger Corman horror movie in the 60s and 70s. It looks like a cross between Groundskeeper Willie and John Candy in a Harry Crumb disguise.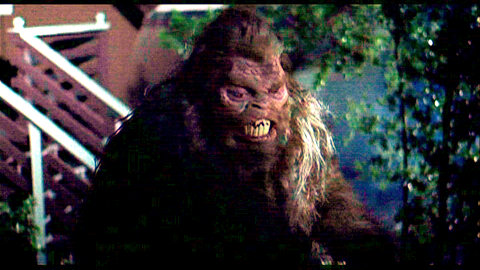 2) There is a long, long sub-plot about some local guys who encounter the creature in the nearby woods. Rather than being intricately interwoven with the main plot, it's basically another similar movie stuck somewhere in the middle of this one. It seems to go on forever (more than twenty minutes). I can see why the auteur thought he needed some colorful characters (Jeffrey Combs and Lance Henricksen) and some humor in an otherwise too serious drama (by genre standards), and the sub-plot did allow the script to show where Bigfoot lived and what he did with his victims, but this scene goes on so long that we have enough time to forget the paraplegic guy!
Overall, it's not a bad little movie with some good T&A to meet genre requirements. Of all the movie genres in the cinematic universe, the giant creature genre has to be in my bottom five percent, right down there with pretentiously symbolic art films, Bollywood musicals, and graphic splatter flicks. Given that fact, this must be quite a decent little film to have held my attention as well as it did. With a better creature it would have been a keeper.