In space, no one can hear you snore.
I don't know if I can name another film in which so much talent and so much potential produced such a mediocre result.
The Alien franchise is one of the most distinguished of all the filmed series. It has attracted some of the world's greatest directors: Ridley Scott, James Cameron, and David Fincher.
The great Jean-Pierre Jeunet directed this one, and you could not make a better choice for the franchise. He has such an outré and stylized sense of visual composition that even Tim Burton has to settle for second place for sheer imagination and set design. In fact, if you pick Jeunet as the greatest living director, I can offer many alternatives, but no outright rebuttal except maybe Ingmar Bergman. He is a true genius, combining art and commercial appeal flawlessly, blending the imagination of Burton and Robert Rodriguez with the heartfelt and accessible warmth of Spielberg. At least three of his films, The City of Lost Children, Amelie, and A Very Long Engagement, are among the greatest ever made. Amelie is rated 29th best of all time at IMDb, and his filmography has no less than three other films rated 7.8 or higher, thus high enough to make the all-time 250 with enough votes. Having four films at 7.8 or higher places him in the same category as Martin Scorsese and Francis Ford Coppola. Pretty ggod company, indeed. (Sergio Leone has five. Spielberg has six - and six more rated 7.6 to 7.7! Kurosawa and Bergman have 15 each.)
The script was written by Joss Whedon and, again, you would have a hard time making a better choice to write a space fantasy film. He's the creator of Buffy, Firefly, and Angel for the small screen; and his feature films include Toy Story, Titan A.E., and Serenity.
Sigourney Weaver came back to star as Ellen Ripley, the role with which she is most closely associated, and was excellent as usual, playing Ripley this time as a wisecracking human/alien hybrid who was created hundreds of years after the time period of the first three films in the series.
What a team!
What a bore.
The film has some good ideas, the design is as magnificent as expected, and every detail is constructed meticulously. Every one of the participants took the project seriously and worked hard to make it successful. The enormous budget was quite sufficient to allow Jeunet to do anything he wanted to do.
... and I kept fast-forwarding through the tedious parts.
Bo-o-o-o-ring.
Highly competent, but lifeless and unengaging. (Roger Ebert's one and a half stars does seem a but harsh, however.)
So what went wrong?
There's just no reason for this film to exist. The story is neither fresh nor compelling, and just about every acre of ground covered in this film has already been plowed by the previous films in the series. Simple as that. End of story.
For the record, I greatly enjoyed all the special features on the second disk, and there are many of them. The film's creators were enthusiastic, articulate, and thorough in explaining just about every element of the process from pre- to post-production. There are also two versions of the film on Disk One. One is the theatrical release, and the other is an alternate cut which re-integrates some deleted scenes and has a different beginning and ending. (Jeunet says the theatrical release is the director's cut, but he created the alternative so DVD purchasers could see another way it might have turned out. The final scene on post-apocalyptic earth is worth seeing: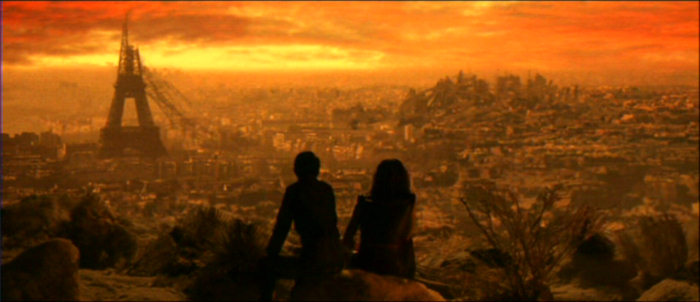 You will note that there is also some Sigourney Weaver frontal nudity in the Alien: Resurrection DVD.
Kinda.
But not really.
Long Story. Pull up a chair.
First of all, this image isn't in the film at all. In the actual movie (both versions), the scene is cropped at her bikini line. The full frontal nudity is seen on the extra features on the two-disc special edition. It's a picture snapped on the set.
Second, it is not a live body at all, but a mannequin, according to the commentary.
Third, Sigourney didn't even pose for the mold. The FX guys used a body double for the body, although they did use Sigourney's head for the head.
Overall: I recommend the package enthusiastically for fans of the Alien series, but my recommendation comes with the proviso that the film itself is disappointingly average, and represents a career nadir for most of its brilliant creators.